Ali Wong may be one of the most talked about celebs in the world right now, but that doesn't mean she's just like the rest of us… somebody who adores Keanu Reeves.
Thanks to the popularity of her new Netflix show, Beef (which some viewers are calling the "best show ever"), the 40-year-old actor and comedian is on everybody's lips. Whether she's explaining why she always seems to be pregnant or just offering women some all-important dating advice – Wong is everywhere right now.
However, despite being a bona fide star in her own right, she still loves Matrix star Keanu Reeves as much as the next person.
Credit: Tsuni / USA / Alamy
Yes, Always Be My Maybe was written by Wong, and shows her character rekindling her romance with a former teenage fling.
Throughout the movie, her character also gets to makeout with numerous male actors – something she openly discussed during her 2019 appearance on The Ellen DeGeneres Show.
Wong even admitted that she convinced Netflix to spend more money on the movie, just so she could land those big-name stars.
"I basically made Netflix spend all this money on a movie just so I could kiss Daniel Dae Kim and Keanu Reeves," she told Ellen.
Wong also joked that she had no problem conjuring the on-screen chemistry needed to convincingly kiss Reeves and Dae Kim, as she had been married to then-husband Justin Hakuta for a decade when the movie was made.
"I've been with the same dude for 10 years. I would have chemistry with a turtle at this point," she quipped. (Sadly,
Ali and Justin called time on their relationship in 2022. The pair share two daughters.)
Reeves appears in the movie for a brief cameo, playing himself – but it is a hilarious moment nonetheless, especially knowing how far Wong went to secure the star.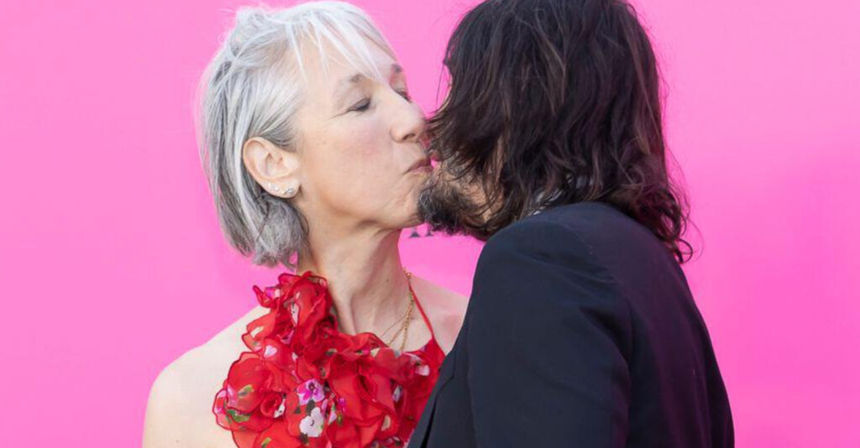 Credit: Sipa US / Alamy
Honestly, who could blame Wong for doing what she could in order to bag Reeves?