A bride has tragically been killed moments after marrying the love of her life, while her groom is hospitalized after being hit by a suspected drunk driver shortly after their wedding reception.
Samantha "Sam" Hutchinson, 34, and her new husband Aric Hutchinson tied the knot on Friday (April 28) and celebrated with their friends and family at Folly Beach in South Carolina.
As reported by WYFF 4, the newlyweds were leaving their reception at 10:00 PM, where the blushing bride was photographed grinning from ear to ear.
Moments after getting into the golf cart that was taking the couple from their venue, they were rear-ended by a suspected drunk driver.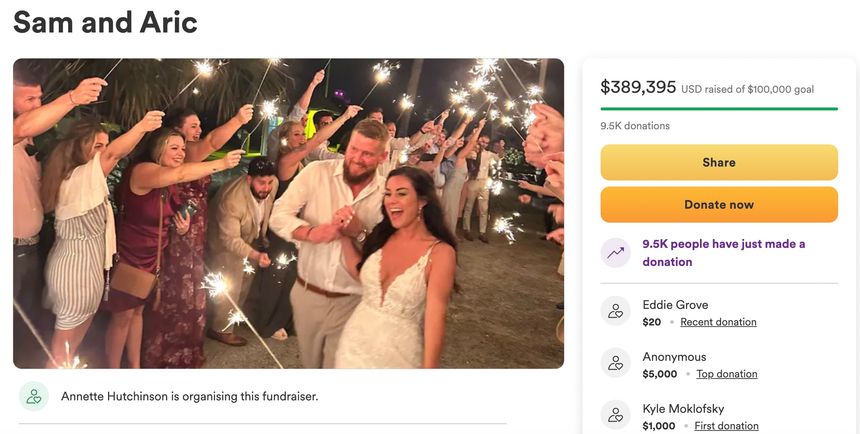 A GoFundMe page has been set up by Aric's mother, Annette, where she further detailed the tragic events that hospitalized her son and claimed the life of Samantha.
"Aric lost the love of his life when my new daughter-in-law Samantha 'Sam' Hutchinson was tragically killed by a drunk driver moments after the picture above while leaving her wedding reception on April 28th in Folly Beach, South Carolina. My son is now in critical condition," Annette wrote.
She went on to explain that her son-in-law Benjamin Garrett and grandson Brogan Garrett were also involved in the accident which saw the golf cart get hit at "65 mph" (104 km/h) in a 40 km/h zone.
Annette claims that the golf cart was "thrown over 100 yards and rolled several times".
She went on: "Sam died from her injuries. Aric is in serious condition and has had one of two reconstruction surgeries, numerous broken bones, and a brain injury, he will have a long recovery. Ben and Brogan were also injured, Ben seriously.
"I was handed Aric's wedding ring in a plastic bag at the hospital, five hours after Sam placed it on his finger and they read each other their vows. Aric has lost the love of his life."
All proceeds from the fundraising page will be used to cover medical costs for Aric as well as funeral costs for Sam.
At the time of writing, the page has received $389,000 from its intended $100,000 goal from 9,500 donors.
The driver of the car has been named as 25-year-old Jamie Lee Komoroski who was arrested and charged with DUI involving death and reckless homicide.
Sam's place of work, XenTegra, took to LinkedIn to share a heartfelt tribute to their colleague who was described as an "integral member" of their team.
Part of the statement read: "Beyond her professional accomplishments, Samantha was a wonderful person. In the last several months, our team was able to join in her excitement as she shared photos and intricate details about her upcoming wedding. We will forever remember Samantha's smile, her laughter, and her dedication to her work, friends, and family."
Our thoughts are with all those affected by this tragedy.