A six-year-old boy is reportedly "fighting for his life" after he and his father were struck by lightning while holding hands.
A loving hand-in-hand walk back from a Texas bus stop resulted in tragedy when 34-year-old Matthew Boggs was walking with his two young sons, Grayson and Elijah.
Sharing the heartbreaking story in a GoFundMe campaign, a family member writes that "lightning came out of the sky without warning" and struck the Valley Mills father on the afternoon of May 15.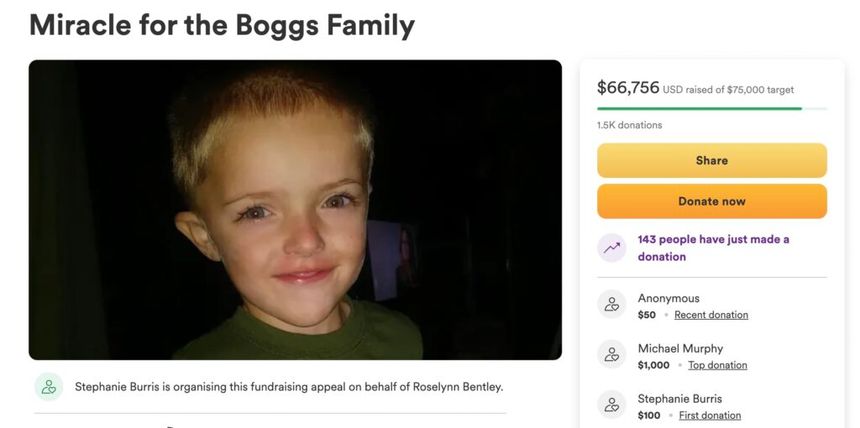 Credit: GoFundMe
Elijah, who is just 11 years old, told local news station KWTX: "I was really scared. I rolled Grayson over and he was kind of smiling a little bit. I thought they were just joking, but when I rolled my dad over the middle of his head was bleeding and his face was already purple."
After receiving CPR at the scene, young Grayson was rushed to the McClane Children's Hospital Baylor Scott and White where family say he is "fighting for his life" and is unresponsive.
A recent update on the GoFundMe page now reveals that the six-year-old boy is also being treated for pneumonia. Doctors also say that there is a chance the youngster could have brain damage.
KWTX reports that grandmother Angela has accepted the loss of her only son, and is now focused on her grandchildren.
"I always took care of [Matthew] because he was the one that God gave to me," she said. "Now my responsibility is to take care of my grandbabies."
Speaking of Grayson's loving energy, she added: "He's a rambunctious little boy. He is always, always on the move playing. He goes, 'Rawww strong."
As of this writing, over $66,000 has been raised for the family. The money raised will go toward Matthew's funeral costs, as well as supporting his sons in the future.
Per the CDC, lightning can strike anywhere on Earth, but they are more frequent and deadly in southeastern US states, such as Texas.
WSAV Chief Meteorologist Kris Allred has stated that this is the third fatal lightning strike to occur in the US in 2023.
Our thoughts go out to the family and loved ones of the father and son at this time.