Gwen Stefani's performance at the 2023 CMT Music Awards has been slammed by fans on social media.
Stefani sported a white mini dress with red polka dots and matching gloves for the performance, while the 32-year-old 'What He Didn't Do' singer donned an all-black look.
After the duo tore up the stage with their energetic arrangement of the songstress' 1995 hit, they embraced each other before walking off the stage.
CMT's official Instagram posted a snippet of the performance with the caption: "We can't get enough of @gwenstefani and @carlypearce's ICONIC #CMTAwards performance of 'Just A Girl'."
While many people enjoyed seeing the 'Sweet Escape' vocalist team up with Pearce to perform her popular song in a different way, longtime country fans had other opinions.

Credit: Instagram
Another equally disgruntled person stated: "Wth is going on here. Sorry, but this is terrible. She sounds like she's trying so hard to change her voice, I don't understand why."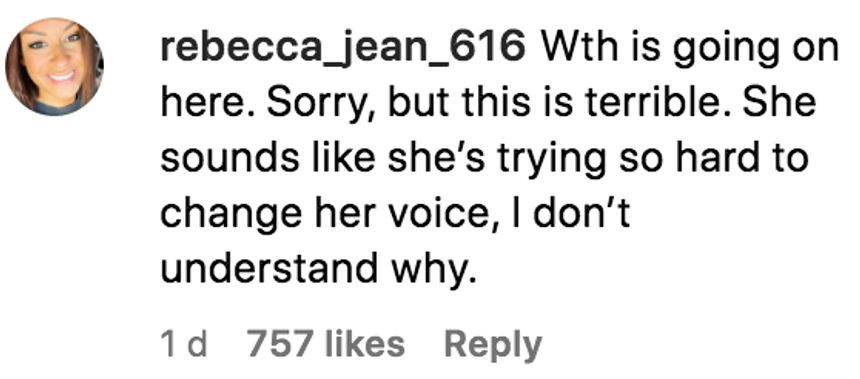 Credit: Instagram
A third person remarked: "Maybe I missed something.. it didn't sound good. I'm not her biggest fan but I don't dislike her either. It just didn't sound good."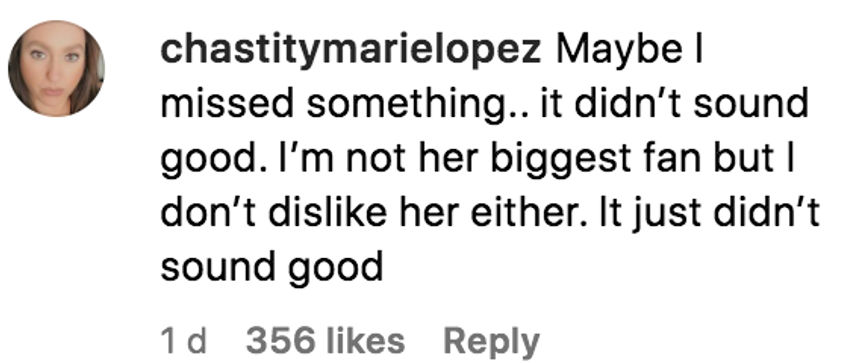 Credit: Instagram
A fourth user added: "I absolutely love Gwen. This was a disgrace. It was butchered, and it did not belong on Country Music Television Awards."

Credit: Instagram
Meanwhile, other viewers shared that they enjoyed the performance, with one satisfied person sharing: "Women were highlighted tonight. Gwen sang 'I'm Just a Girl'. I think she did great!"

Credit: Instagram
A second user defended Stefani from the naysayers and simply wrote: "Yall need to get a life… Gwen is great and country will always be country but they're trying to make it fun … it's a show."
Credit: Instagram
And another chimed in: "Crossed genres is a craft. People are negative. No doubt is a ska band. Gwen is no doubt. Let's not forget Carly is the country. So chill out and let the girls perform. Song's called just a girl after all."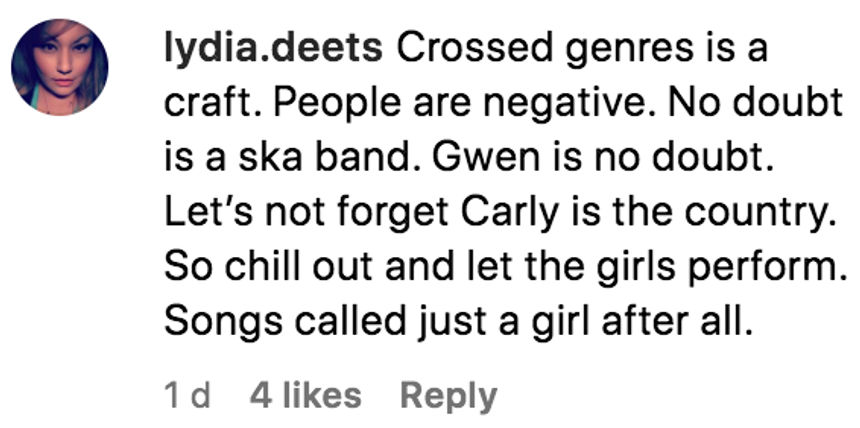 Credit: Instagram
According to People, Pearce spoke to the media about her performance with the 'Rich Girl' hitmaker and said: "She obviously is married to Blake [Shelton], which I've been on tour a few times with him."
"She is such a true artist and such a songwriter. I feel like we've really bonded over the songwriting, and I'm such a fan," the 'I Hope You're Happy' musician concluded.