Kid Rock has donated $5,000 to a fundraiser for Daniel Penny – the ex-Marine who is charged with Jordan Neely's fatal chokehold.
Neely, 30, died on May 1 after he was held in a chokehold for 15 minutes, allegedly by former Marine, 24-year-old Daniel Penny, who has since turned himself in following the manslaughter charge against him.
The incident was filmed on the subway in Manhattan as witnesses stated that Neely was shouting about being hungry and thirsty, but he wasn't being violent to any other passengers.
Neely was then placed in a chokehold for 15 minutes, and despite losing his life, no arrests were made at the scene.
Penny, after turning himself in, was arrested and his bail was set at £100,000 – and people have rushed to defend him via a GiveSendGo page.
At the time of writing, over $2.4 million has been raised for the former Marine to cover his legal fees, with the fundraiser claiming that any extra money will go to mental health advocacy groups.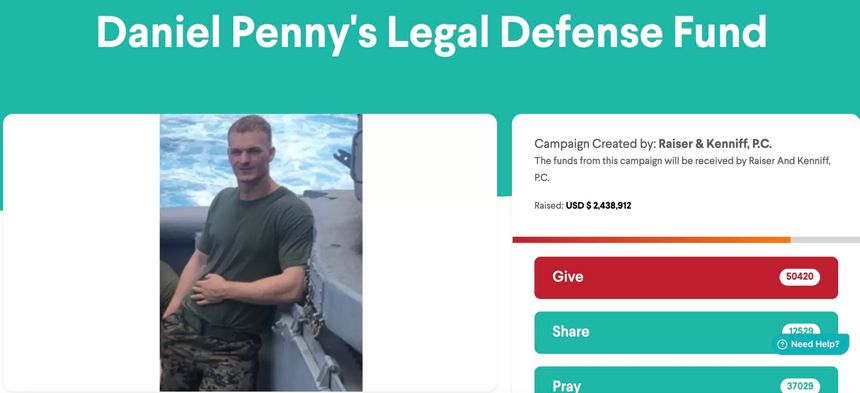 Credit: GiveSendGo
Country rapper Kid Rock, real name Robert James Ritchie, has since donated $5,000 to the page and has offered his words of support to the 24-year-old.
"Mr. Penny is a hero. Alvin Bragg is a POS. Kid Rock," the 52-year-old musician wrote on the Christian fundraising site.
As reported by The New York Post, Neely's mental health began to decline after his mother was reportedly strangled to death and stuffed into a suitcase when he was 14 years old.

Credit: GiveSendGo
His aunt, Carolyn Neely, said that this caused the then 14-year-old to descend into a "complete mess", and that he didn't get the appropriate help for his mental health struggles.
Carolyn told the outlet: "My sister Christie was murdered in '07 and after that, he has never been the same […] It had a big impact on him. He developed depression and it grew and became more serious. He was schizophrenic, PTSD. Doctors knew his condition and he needed to be treated for that. The whole system just failed him. He fell through the cracks of the system."
Prior to turning himself in on May 12, Penny was charged with second-degree manslaughter by The Manhattan District Attorney's office.
The death of Neely has sparked an outcry across the country, as people began gathering at the subway station where he lost his life as they campaigned for better support for those suffering from adverse mental health.
As per CBS News, Penny's attorneys state that he stepped in to "protect himself and his fellow New Yorkers."
They continued: "We are confident that once all the facts and circumstances surrounding this tragic incident are brought to bear, Mr. Penny will be fully absolved of any wrongdoing," adding that Neely had been "aggressively threatening Daniel Penny and other passengers," and that Penny and the others had "acted to protect themselves.
Penny's legal team claims that he never intended to hurt the 30-year-old and that his death was a tragic accident.
Our thoughts continue to be with all those affected by this tragedy.