An Australian lingerie brand has been forced to respond to backlash after using a non-binary model in a recent ad campaign.
Honey Birdette took to Instagram to post a photo of non-binary French model Jake DuPree wearing their new Ruby three-piece set, which included a bra, lacy panties, and a garter belt.
Inevitably, the comments left underneath the post were particularly unsavory – with some people even referring to DuPree as having a "mental disorder" and accusing the brand of hating women.
"Honey Birdette fosters an inclusive and diverse environment, and we will continue to use our voice to empower and support the LGBTQ+ community, women, and anyone who wants to feel fabulous in our lingerie. While thoughtful and constructive discussions are important to push culture forward, hate speech and bullying will not be tolerated on our channels. Comments of this negative nature will be deleted," the caption was amended to read.
Fortunately for DuPree, their own Instagram account was a place for supportive and loving commentary. "Days like this are tough, but I'm tougher. Thank you for so much love and support today! I heard from so many of you, and I genuinely appreciate all your kind words…and some funny comebacks that really made me laugh," DuPree captioned an image of themself in the red lingerie.
In the comments section, hundreds of people voice their support for DuPree. "You are the perfect version of yourself! Anyone who criticizes you hasn't taken time the to find out anything about you. And that is their loss! Just by 'following' you, I can see you are a kind and passionate human being. A wonderful brother, son, partner and friend. It takes one look at you when you are with your people to know those things about you," one person wrote.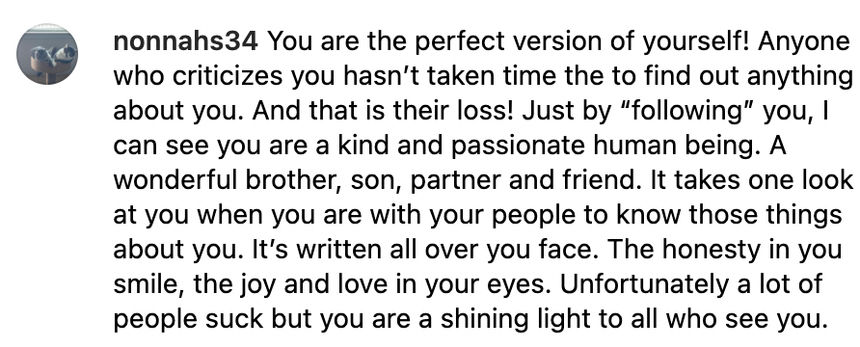 Credit: Instagram.com
Someone else added: "With being a trailblazer, comes haters. Keep SHINING and blazing the trail Jake. Love you!!!!"

Credit: Instagram.com
And they're right! Hate has no place anywhere, no matter who you are.