A mom has responded to critics after revealing that she chose to keep her family's dog after it bit her daughter's face.
As reported by the Daily Mail, mom and influencer Nadezhda Dramaretskaia – who also goes by Klara Tsetkin on TikTok – has recently been faced with a torrent of backlash after revealing that she chose to keep the family's cocker spaniel after it left her young daughter requiring stitches in her face.
However, despite many comments on her videos now branded Klara a "bad mom", she has added further clarity to her story in a series of follow-up videos.
"After 10 days of reflection, we came to the conclusion that we all make mistakes in this life," Klara wrote in a now-deleted TikTok video – which also showed Milana's bruised face with multiple stitches in her left cheek. However, rather than hear out the mom's reasoning, many social media users were apparently left so uncomfortable by the child's injuries, that they bombarded Klara's comments sections with criticism.
On her most recent video, one person writes: "The girl will most certainly have PTSD from what happened and is expected to continue living with the dog that attacked her?"

Credit: TikTok

Credit: TikTok

Credit: TikTok

Credit: TikTok
But the mom revealed in a follow-up post that her dog "never attacked" her daughter like many people have incorrectly assumed.
Instead, writing in a text overly, Klara explains that Bart had become "very sick" and was attempted to rest under the bed. "His hind legs gave out and he couldn't crawl away," she writes.
The family has also launched a GoFundMe for anyone wishing to help with the child's recovery and fund scar resurfacing treatments.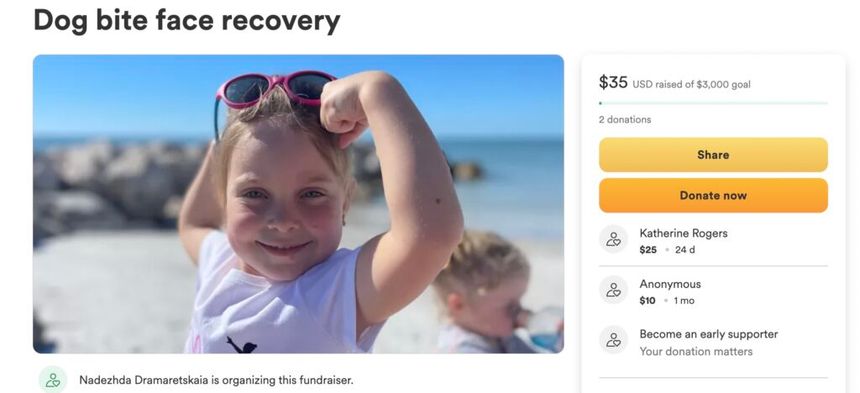 Credit: GoFundMeAfter sharing the full story behind her daughter's injuries, more and more social media users have voiced their support for the mom's decision to keep Bart.
A second added: "Your attitude of continuing with the dog was right, do not pay attention to comments from mean and ignorant people."
"You are not a bad mom," one person added.

Credit: TikTok

Credit: TikTok

Credit: TikTok