MrBeast has revealed that before he met his current partner, he put 40 different girls through "the test".
The most-followed YouTuber in the world with 145 million subscribers – whose real name is Jimmy Donaldson – is known for his grand stunts and acts of kindness.
As he is one of the richest and most popular streamers on the planet, finding a romantic partner may be quite difficult for him due to his busy schedule.
Watch MrBeast on the podcast below: 
Donaldson told Schulz and Singh that he met his current girlfriend, Thea Booysen, while he was having dinner with a friend in South Africa.
Recalling the moment she walked in, he said: "I was like holy s**t this girl is beautiful. But I have to go through the test," explaining that when he meets someone, he has to put them "through these tests, because like, I don't, I don't really get along with women".
The YouTuber shared that he questioned her on her hobbies, to "get a feel" for her interests and whether she enjoyed learning – which is a massive factor for him in relationships.
Fortunately for him, Booysen "checked all the boxes," as she revealed to him that she is an author and was doing a neuroscience degree "just for fun" because her current business succeeded.
He also disclosed to the hosts that Booysen wasn't the first woman he'd "put through the wringer," adding: "This was probably the 40th different girl I had talked to since my ex."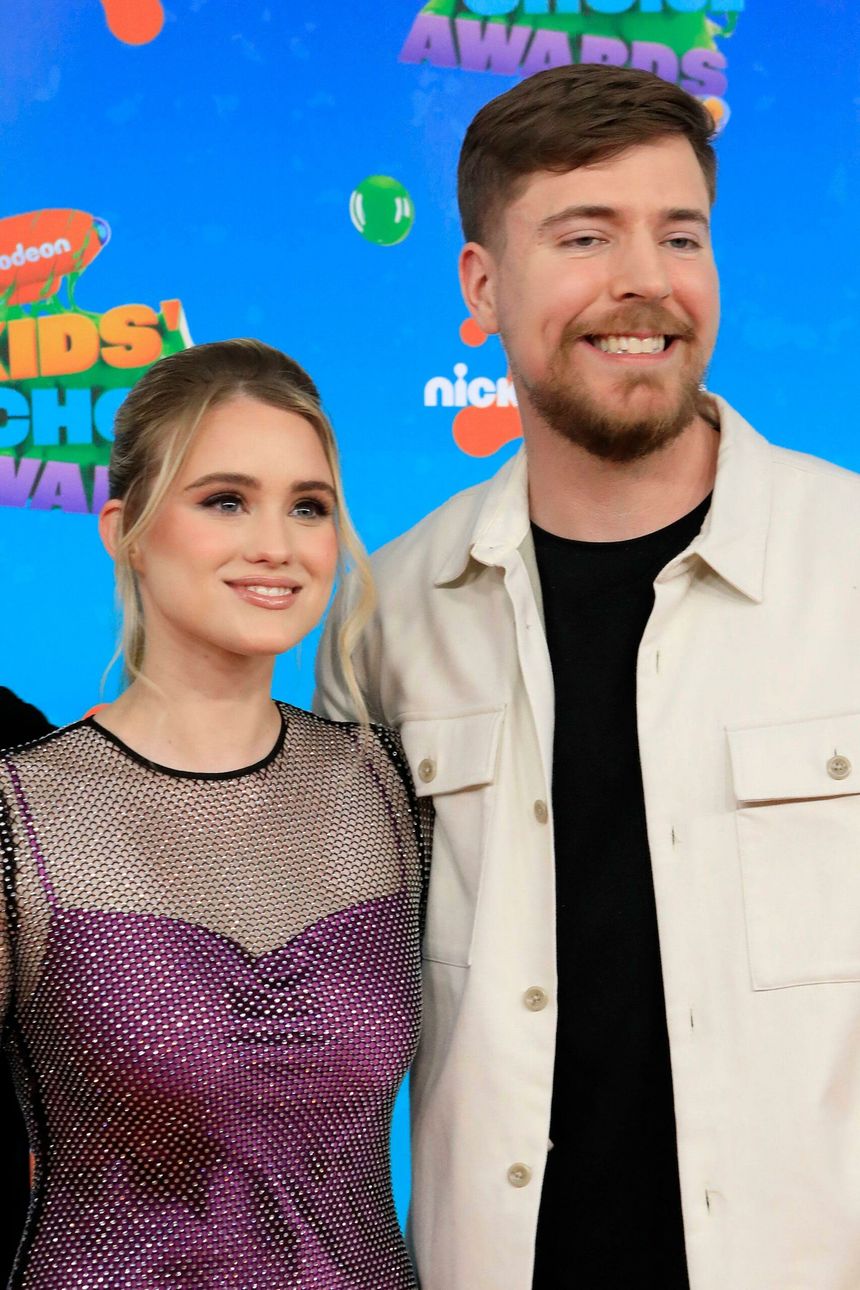 MrBeast and his girlfriend Thea Booysen. Credit: Kathy Hutchins / Alamy
As previously stated, MrBeast uses his social media platforms to share videos of generous acts. However, recently he was slammed by users after he tipped a waitress a brand-new car that was covered in his own branding.
The YouTuber then asked her if she's ever been tipped a car and proceeded to hand her a set of keys to a black Toyota sedan. The stunned server questioned whether the social media star was serious so he took her outside and unveiled to her a new vehicle that he said was hers entirely.
However, the car appeared to feature the word "Feastables" written on it – the name of Donaldson's chocolate brand – and the logo for his main YouTube channel also appeared on the car's hood. But, Amy was still awe-struck by the sweet act.
Eventually, the content creator responded to the backlash on social media by sharing an unseen clip from that same day.
In the video, MrBeast tells the waitress: "Enjoy the car! You can get rid of the logo too," but she responded: "It's kinda cool! It's kinda giving a little bit, isn't it?"
However, he assured viewers in the caption that he "ended up taking the logo off anyways".