A pregnant woman has revealed that she banned her husband from the delivery room after she found out that he cheated on her throughout her pregnancy.
Taking the unfortunate ordeal to Reddit's True Off My Chest community, the anonymous woman shared a story that could only be defined as an expectant parent's worst nightmare.
Captioning the post, which has amassed 13.8K upvotes, the mom-to-be wrote: "I don't want my ex-husband in the delivery room. I thought it went without saying, but now people act like I'm the devil."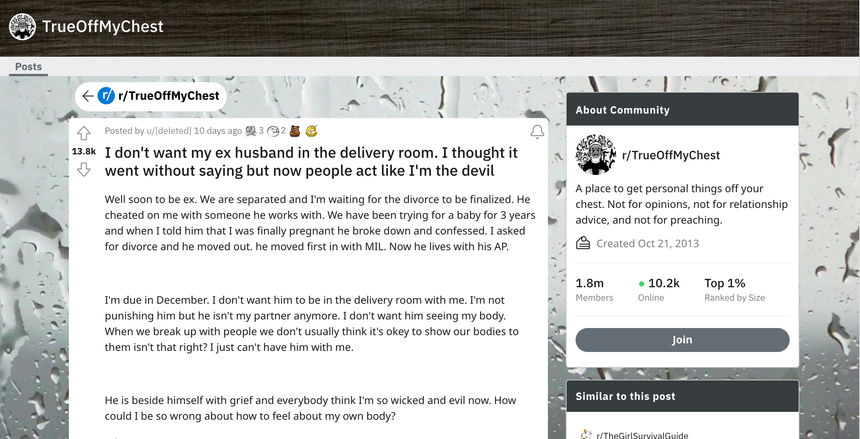 Credit: Reddit.
Explaining her and her ex-husband's relationship, the pregnant woman wrote: "We are separated and I'm waiting for the divorce to be finalized. He cheated on me with someone he works with."
"We have been trying for a baby for three years and when I told him that I was finally pregnant he broke down and confessed. I asked for a divorce and he moved out," she continued.
The expectant parent clarified that she isn't "punishing" her former spouse and that it's because typically when couples break up, they "don't usually think it's ok to show our bodies".
"I just can't have him with me. He is beside himself with grief and everybody thinks I'm so wicked and evil now," the woman concluded. "How could I be so wrong about how to feel about my own body?"
One user recommended: "Just tell your Dr and nurses who are allowed there, they will take care [of] the rest. Do not tell him when you go into labor."

Credit: Reddit
Another user chimed in: "And tell everyone giving you a hard time that they need to flash their own bits and go through major physical trauma in front of your ex before you will begin to entertain their opinions. They're weirdly ready to offer up someone else's body as if you were a freaking incubator."

Credit: Reddit
A third user said she should "be the devil," adding: "F*** everyone and their opinions on who you want and don't want in the delivery room. Hope it goes smooth for you and the baby."
Credit: Reddit
Lastly, a fourth user assured the mom and wrote: "Unfortunately for him, it's your moment and your body. Not his. Your choice and you are entitled to this decision. Ignore what others say, do what you feel. Does he deserve to be there? No, he doesn't. I would feel the same!"

Credit: Reddit
At the end of her post, the pregnant woman shared that she is overjoyed that the "vast majority" of people agree with her decision. She also revealed that while she hasn't decided who she wants in the delivery room, she may choose her mother-in-law.
Do you guys agree with her choice to ban her cheating hubby from the delivery room? Share your thoughts down below.