Rolf Harris' cause of death has been revealed as per his death certificate.
Earlier today, it was reported that the Australian entertainer, who was also a convicted sex offender, had died aged 93.
While the news was confirmed by several publications on May 23, it was later revealed that the disgraced performer had actually died weeks earlier, on May 10.
Credit: Mark Thomas / Alamy
The outlet also reported that the former star had been "very sick" since leaving prison six years ago, after being convicted of sexually assaulting several women and girls.
Allegations first started surfacing in 2014, before a jury found Harris guilty of 12 counts of indecent assault against four female victims – one as young as eight years old – during the 70s and 80s, according to a report by News Corp Australia.
After retreating to his million-dollar mansion, the performer stayed primarily out of the spotlight until very recently when it was reported that his health had declined severely.
An undertaker's private ambulance was seen outside his riverside home approximately two weeks ago on May 11.
However, the Mail reported that his death was only registered at Windsor and Maidenhead Council today, with the official death certificate revealing that he had also been cremated in a private ceremony.
The official causes of death as per the document were listed as "metastatic squamous cell carcinoma of neck" – the medical term for neck cancer – and "frailty of old age".
Prior to his downfall, Harris was known as a beloved entertainer.
Born in Western Australia, Harris moved to the United Kingdom where he found fame playing the wobble board and didgeridoo, as well as working as a TV presenter. His talents stemmed into the arts too, as he was even commissioned by the BBC to paint a portrait of the late Queen Elizabeth II for her 80th birthday.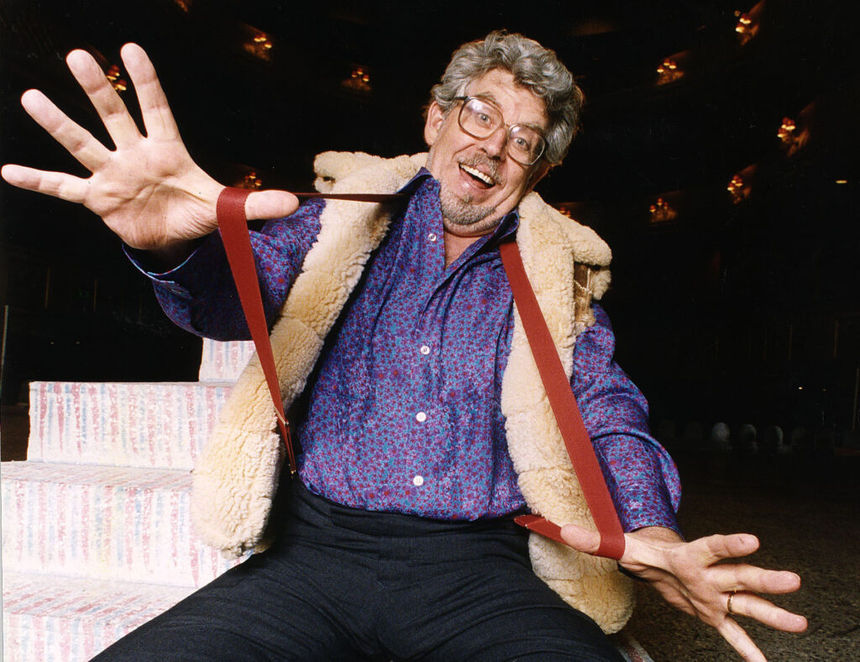 Trinity Mirror / Mirrorpix / Alamy
Even though Harris didn't speak on the conviction publicly after his release from prison, he did release a statement in a book titled Rolf Harris: The Defence Team's Special Investigator Reveals the Truth Behind the Trials.
"I was convicted of offences I did not commit in my first trial. That is not just my view but the view of the Court of Appeal who overturned one of my convictions. I had already served the prison sentence by the time of the appeal. It is difficult to put into words the injustice that I feel," he added.