A woman has divided the internet after she proudly burned her wedding dress during a "divorce photo shoot."
Taking to TikTok on March 26, Lauren Brooke (AKA @lauren_brooke91) from North Carolina posted a series of videos of her burning her wedding dress after recently getting divorced.
The clips showed the mom-of-two dressed in a red tulle gown, dragging her wedding dress across a big field and into a woodland area where she set it alight.
While the moment may have been iconic for Brooke and the perfect way to symbolize the ending of her long-term relationship, it seemed to rub some people up the wrong way.

Credit: TikTok
Credit: TikTok

Credit: TikTok

Credit TikTok
However, the majority of people commended the TikToker for her bad b**** attitude.
"This is bada**," added another.
A third commented stating it must have felt "amazing" to rip up the dress and set it on fire.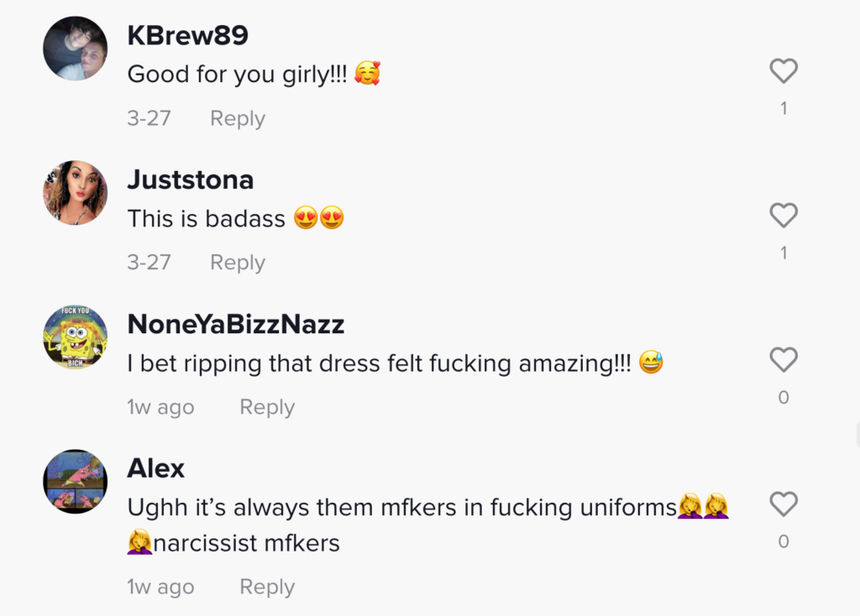 Credit: TikTok
Speaking to the New York Post, the 31-year-old opened up about the inner workings of her relationship.
She said that she and her partner fell in love when the two attended the same Baptist church growing up. Then in 2012, they walked down the aisle and said "I do" to each other.
However, as the years progressed, their relationship "deteriorated", with a portion of the blame lying on her ex-husband's job in the Army National Guard.
She also revealed that ever since she posted the videos showing her burning the remains of her old flame, she's been fearing for her family's safety.
"A lot of people think I wanted revenge, and I was like, 'If I wanted revenge, there's a million other ways I could have done that,'" she continued.
"I've been called a narcissist and attention-seeking, and people are saying I was the problem," Brooke added before clarifying: "The photo shoot wasn't celebrating the divorce itself – it was celebrating the fact that I survived it."
Alongside the videos, Brooke also posted some photos taken of the scene by her mom, who – very handily – is a professional photographer.
"It was great to see her laughing — the year had been extremely difficult with so many emotions trying to navigate a new normal," her mom told the outlet.
"What else was I going to do with my wedding dress? It couldn't be returned and I wouldn't want to give it to my daughter – not after the way it ended. So why not burn it?" Brooke explained, also adding that her new partner also came to commemorate the occasion.
Brooke and her current boyfriend met on Tinder back in February and have been together ever since.
"She's a wonderful, amazing woman and I want to be there to support her however I can," he said when speaking of her.
Despite their newfound love, the 31-year-old isn't planning on getting hitched again any time soon.
You do you, girl!