A woman who uses her land to grow fruit and vegetables to help those struggling with the cost of living woke to find her land had been salted, meaning nothing is able to grow.
The cost of living crisis is hurting millions of people across the world, with the war in Ukraine putting a strain on resources, especially in Europe, as per the Institute for Government.
In addition to the hardship that people are facing, the impacts of the global pandemic are still being felt as shipping costs increased, meaning higher prices on products.
In the UK specifically, the Institute for Government state that wages have not increased to match the cost of both energy and food prices, so people are under significant pressure.
But with hard times come good people, and Carly Burd stepped up to the plate and used her land to produce food for those in need, and she fed over 1600 people.
Sadly, somebody took a disliking to Carly's kindness and took it upon themselves to pour salt over her land, meaning that nothing more will grow.
"The amount of work — I can't even begin to tell you — that's gone into that allotment, it's unbelievable," she continued.
She vowed to not let this heartless act derail her good work, as she fully intends to keep the good work of her "A Meal on Me With Love" initiative.
"Everything I've planted won't grow, and I can't replant on it because it won't grow," one person commented.

Credit: TikTok
A GoFundMe page has been set up in order to raise money for Carly and her land, and at the time of writing it has gained over £170,000 ($212,000).
Carly continued: "They receive a large box that contains essentials plus enough food, fruit, vegetables, pasta, rice, breakfast etc for the amount of people in the household."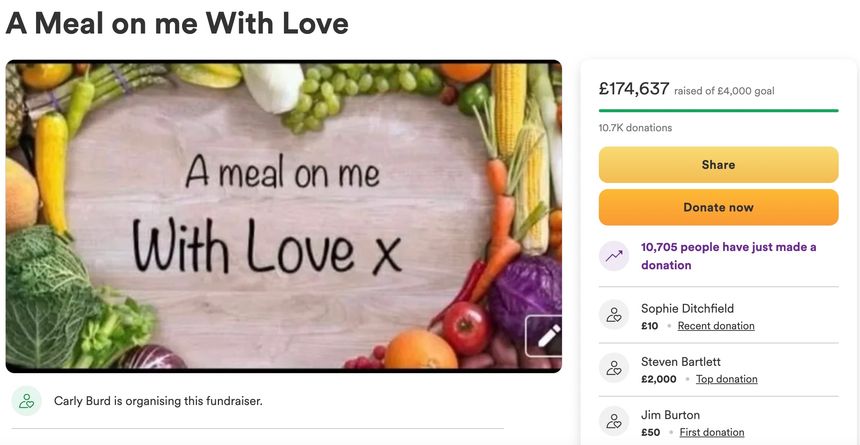 Credit: GoFundMe
Steven Bartlett, a successful businessman who runs the Diary of a CEO podcast donated £2,000 ($2,500) to the page.