Wrestling legend Bushwhacker Butch has sadly passed away aged 78 and his longtime tag team partner has paid a heartbreaking tribute to the star.
As per TMZ, Butch had arrived in Los Angeles to watch Wrestlemania when he was hospitalized due to "a situation with medication," according to Luke.
The WWE Hall of Famer sadly passed away on Monday afternoon, and tributes have poured in as many pay their respects to the wrestling legend.
"Late last night, I lost my friend, brother and tag team partner of over 50 years with the passing of Bob "Butch" Miller. My heart goes out to his wife Helen, his lovely daughters Sharon and Kirsten and all of his grandchildren," he began.
Luke paid homage to the time he spent with his friend as they navigated their way through the world of wrestling, before adding that Butch was "an all-around good guy and a great friend".
He concluded: "We did it all, we saw it all, and we accomplished it all together. This past weekend in Los Angeles, Bob flew in from New Zealand to join me for Wrestlemania weekend and the related festivities, neither of us knowing it would be our last days together and his last days of life.
"If you were to read the story of my life it would say that I am only child, but it would be wrong. In life I had a brother and his name was Bob Miller. I love you, Bob."
"I ran into Luke at the hotel early on Thursday and chatted for a few. At one point later, I saw him requesting help as there was an emergency as I was leaving."
A GoFundMe page, originally set up to help fund Butch's medical expenses, is raising money towards his funeral costs.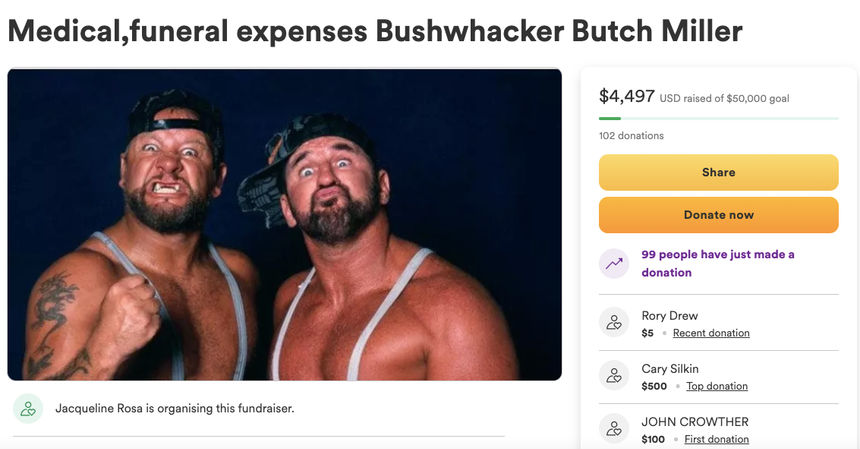 Credit: GoFundMe
At the time of writing, the page has received just over $4000 in donations from a target of $50,000.
Our thoughts go out to Butch's friends, family, and friends.