Yara Shahidi has opened up about the significance of playing the first Black Tinker Bell in Disney's new movie Peter Pan & Wendy.
On April 28, Disney+ released its newest retelling of the Peter Pan story – a live-action remake of the animated classic starring Alexander Moloney and Ever Gabo Anderson in the title roles.
According to the official synopsis, the live-action movie is about "Wendy Darling, a young girl afraid to leave her childhood home behind, who meets Peter Pan, a boy who refuses to grow up".
"Alongside her brothers and a tiny fairy, Tinker Bell, she travels with Peter to the magical world of Neverland. There, she encounters an evil pirate captain, Captain Hook, and embarks on a thrilling and dangerous adventure that will change her life forever," the synopsis adds.
Watch the Peter Pan and Wendy trailer below:
The 23-year-old actress – best known for starring in Black-ish and Grown-ish – was announced to be playing the beloved fairy at the end of last year and as you can imagine, there was some uproar on social media.
However, in Shahidi's latest interview with People magazine, she says she is blocking out the negativity and is instead talking about the impact her role could have on young Black children.
"While I can argue that there's something really powerful about having a Black Tinker Bell, to be able to have a role where the job was fantasy was really an escape as an actor. … It reminded me how much I enjoy the creativity of my job," she said.
When the Harvard graduate was granted the opportunity to take on the role, she asked herself an important question, which was: "What do we want to accomplish with this remake of something that's been done and is so beloved?"
"The entire Disney team was committed to doing more than just swapping out ethnicities," she continued. "It's about telling a story that feels reflective of the times that we're in."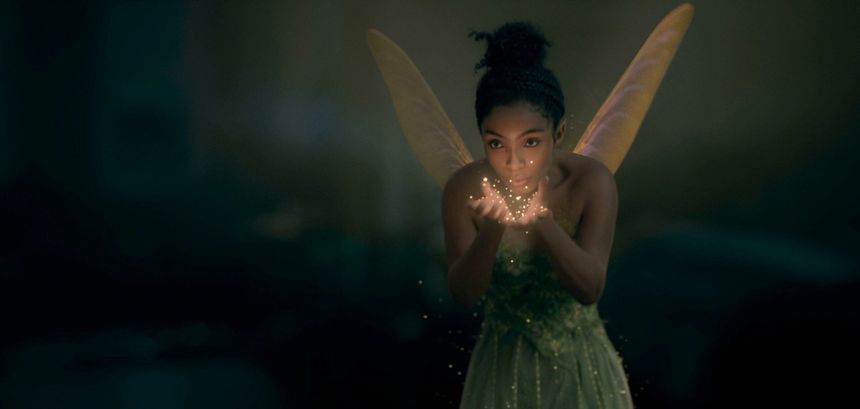 The Sun Is Also a Star actress told the publication that her portrayal of the tiny pixie is not just meaningful, but also pure fun, stating: "My take on Tinker Bell nods towards the classic feistiness that we love about her, that kind of overly expressive nature."
Shahidi recalled having to practice 180 different facial expressions to help create the precious, almost voiceless character's look. She also revealed that it was "cool" to film her scenes apart from the rest of the cast.
"I'm so used to being on a set, like the Grown-ish set, which has staircases and rooms and beds. For this, I was just on a set in Burbank and had to try to recreate that kind of immersive experience and literally fantasize the world around me," she said.
The young actress remarked that imagination and creativity were the charms of this role as Black and Brown actors are often boxed in "serious" movies.
"I think being Black and Brown actors, oftentimes our worlds and our work worlds are so serious," she expressed. "There can be a pressure to always be making a statement in everything you do."
Peter Pan & Wendy is streaming now on Disney+.